Sunday 13 December 2009 A 17km circuit from Alstonefield starting at 10.00 am
From Manchester, head to Buxton then take the A515 towards Ashbourne. Continue past signs to Hartington and Biggin before turning right down a lane to Milldale and Alstonefield. Meet at 10.00 am at the free car park by the public toilets in Alstonefield. If this is full, park at the Memorial Hall and Community Centre Car Park (2 mins walk) or at the car park along the road signed to Wetton, Ilam and Dovedale (5 mins walk). Alternatively come via Leek and Hulme End.

Allow a good one and a half hours from Manchester.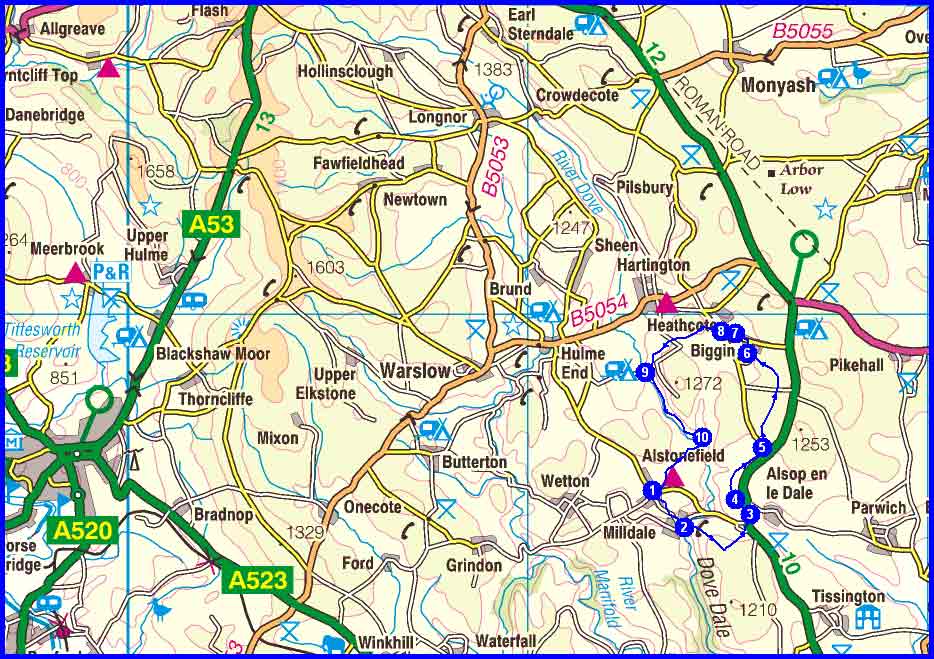 The Walk
It's about 10 km to the Waterloo Inn at Biggin, then a further 7 km - more if you decide to go via Hartington - to return to Alstonefield.
There's a brief commentary on an earlier visit here.
Lunch
This traditional pre-Christmas walk includes a pre-ordered lunch at the Waterloo Inn (Stuart and Claire - 0129884284, choceclair@aol.com) at Biggin, where Black Sheep bitter is available. So if you are coming you need to get Martin to book your meal - contact martin@topwalks.com and make a selection from the following menu:
Main Meals
Soup of the day with a Roll and Butter - £2.95 (starter)
Fish, chips and peas - £6.95
Scampi, chips and peas - £7.95
Beef Lasagne - £7.25
Broccoli and cream cheese bake - £7.25
Steak, Guiness and Mushroom Pie - £7.95
Lamb Shank in minted gravy - £8.95

Snacks

Sandwiches on White or Brown Bread, with Salad & Crisps - Ham, Cheese or Tuna - £3.75

Baguettes on White or Brown Bread, with Salad & Crisps - Ham, Cheese or Tuna - £4.25

Bacon & Cheese Panini - £4.50
Cheese & Tomato Panini - £4.00

Jacket Potatoes with Cheese, Beans or Tuna - £3.50, plus 50p for an extra filling

Burgers, with side salad, add chips for £1 extra:
1/4lb burger - £3.00, double - £3.75
Cheeseburger - £3.50, double - £4.00
Bacon Cheeseburger - £4.00, double £4.95
Chicken Burger - £3.50

Chips - £1.85
Curly fries - £2.00
Onion rings - £1.60

Side Orders
Cheesy chips - £2.25
Chips cob - £2.50
Side salad - £1.50

Top
Home Page

Day Walks Page